Boscombe, a suburb local to Coastline Vineyard in Bournemouth, is well known as an area of social deprivation with low income levels and high rates of unemployment, homelessness and drug use. Coastline Vineyard felt God call them to this area, and at the beginning of 2018 we captured this short film that shares the story about how they began to bring Jesus' love in and transform this community.
Coastline Vineyard was planted by Ade and Em Aldridge in 2015, and since then their community has been demonstrating the freedom that comes from Jesus to those around them. 
We are continuing to hear stories of lives changed from Boscombe because of what Coastline Vineyard are doing. We thought you'd love to hear a couple of recent ones!
Over the summer 'Joy Café' has been hosting weekly Community Suppers. To do this they set up long tables (and picnic blankets for when they run out of chairs!) outside in Churchill Gardens and serve free homemade food. Everybody is welcome – the team spend the afternoon around the park inviting local families to join them. At the first week of their Community Supper, Joy Cafe fed 38 people, followed by 40 people and then 50+ people the following weeks! Kids and adults alike have felt honoured by the personal invitation and loved the opportunity to start and deepen friendships. Everyone loves the tasty meal and is incredibly grateful because bank balances are low by the end of the month. Some people pitch into help at the end and others carry on chatting until the team go home. Joy Café say, "It's such a joy to do Community Supper… it's our current favourite thing to bless and build community in Boscombe!"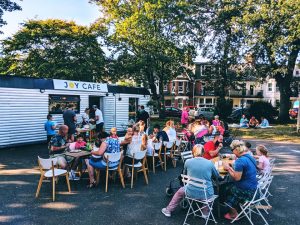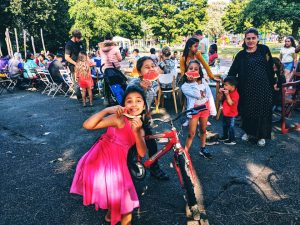 This summer Joy Café has loved investing in four young volunteers – all of whom live locally and three of which are just 12 years old! They are incredible assets to the cafe and their community. Their time at Joy Café has the potential to be life-changing. It's given them valuable work experience, transferable skills and they have had loads of fun!
The young volunteers' circumstances aren't always easy, and so Joy Café is an incredible place where they are surrounded by positive role models who encourage, challenge, champion and speak life to them. The Joy Café team have had the privilege to walk with them and also to pray with them. Joy Café has been much more than a volunteer opportunity. It is setting the young people's lives on a life-giving, Kingdom pathway.