What would it look like to have a mobile living room that would help us reach the most isolated and broken communities in Mansfield? That was the question that one Vineyard church asked themselves.
Part of the vision for Mansfield Vineyard is to bring God's Kingdom into their town and beyond. In light of this, they purchased a Volkswagen Campervan last year, and have been using this campervan as 'Mansfield Vineyard's Living Room', a place where people can connect with the church community even though they may never step foot into a traditional church service. We chatted to Senior Pastors, Tim and Hannah Illsley to find out some more.
"If we think that church is just about meeting together on a Sunday, then our vision is way too small! Our heart is that we would see lives transformed all over Mansfield through inviting people to meet with Jesus. Compassion is at the heart of all we do: we want to be Mansfield's best friend and put love into action."
In May 2018, Tim and Hannah shared the vision with their church for this exciting new project. They raised enough money to buy a van, which they then converted into a beautiful and versatile space. Instead of Mansfield Vineyard solely basing themselves in a building, the van now provides them with a mobile space, and an ability to reach the most isolated and broken communities in their town, with an invitation into the community that God is building around Mansfield Vineyard.
On the first day with the van, a team from Mansfield Vineyard went out and met a man named Derek. Derek had recently started caring for his Grandchildren: He was feeling quite isolated and in need of community – it was a struggle suddenly having two young children to look after. Since that first encounter, Derek has been to Mansfield Vineyard every single week. He has made friends and been for meals in the homes of the community around this church. His Grandchildren love going to the Kids group at church and it has been a joy for Mansfield Vineyard to be able to invest in his entire family and see them thrive. God has done incredible things in this family's life. Lots of prayers have been answered, and Derek is now wholeheartedly part of the Mansfield Vineyard community – thanks to God using a church, a campervan and a loving community.
"The van is a tool for the church, enabling us to be out in the community, loving and caring for those in our local area. We have a compassion team who go out into Mansfield every Tuesday daytime, and lots of different projects in the evenings and at weekends. The van is used in many locations in so many different ways – from a 24/7 prayer space to a cafe – we've given away chocolate, sausage sandwiches, Easter eggs and lots of hot drinks!"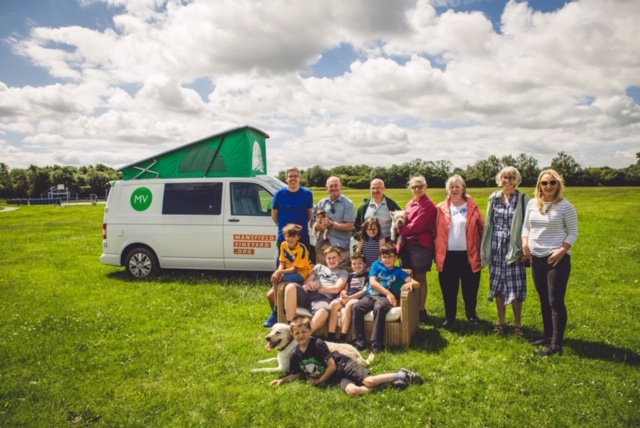 If you have a story about how your church is reaching your local community please let us know by emailing [email protected].