In January, thousands of people from Vineyard churches across the UK and Ireland gathered online for The Vineyard National Gathering. We were grateful for the opportunity to be inspired and equipped as we met online together, and ever since we've loved hearing the stories of how meeting with God at the VNG has spilled out in people's everyday lives. Recently we heard this story from Jos at Leeds Vineyard, and we're really excited to share it with you!
"During the Vineyard National Gathering, I was asking God what I could do to bless my neighbours. During lockdown a few of the people who live near to me have been diagnosed with cancer, and due to restrictions through the pandemic, they've had to go to their chemo sessions on their own. For some of them this has been an especially lonely and frightening experience. I asked God how I can make a difference to these people, and I felt prompted to let them know that they are not alone.
I asked the Small Group that I'm part of at Leeds Vineyard if they would be up for sponsoring my idea of 'You are not Alone' bags to give to people who would be going to chemo sessions alone. Each tote bag cost £5 to make, and was filled with thoughtful and personal items – such as lip balm and hand cream, a water infuser bottle and teabag, some sweets and chocolate, a bookmark and a candle. We also wrote a message of hope in a personal card for each bag, and added a Bible verse and a 'Try Praying' book. The children in our Small Group got involved too by writing some of the cards and drawing pictures.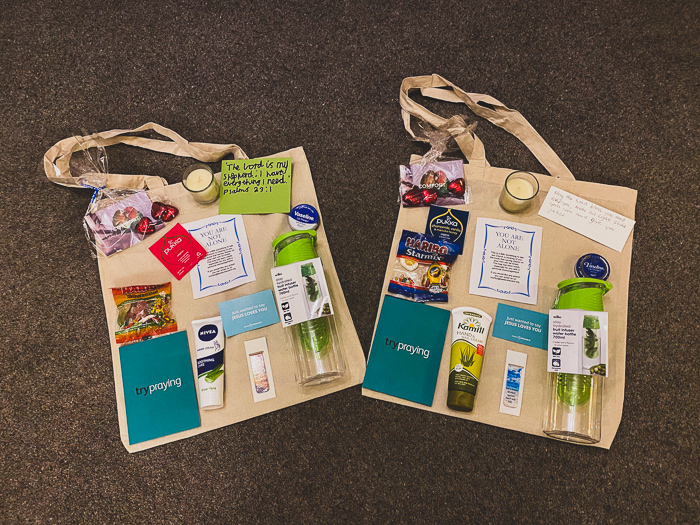 In total we made 60 'You are not Alone' bags and gave them to the chemotherapy unit at the hospital to distribute. The staff at the unit were incredibly grateful that we were doing something positive for people who were going through such a difficult time in their lives.
One gentleman sent us an email via the contact information we'd popped in the bag. He shared, "It was my 60th birthday the day I was given the Bag of Hope on chemotherapy ward, and it was such a lovely gesture. I was diagnosed with terminal cancer just over 12 months ago and found that my faith in God has kept me strong. I have not attended church for a lot of years, and I just wanted to say what a pleasure it was to receive this. Thank you."
One of my neighbours stopped me in the street and asked which church I go to. When I said Leeds Vineyard she started telling me about the bag that she had received on the chemo day unit. It was a great opportunity to be able to tell her that I'll be praying for her. Another lady who'd received the bag shared that her water bottle had just broken, and so receiving the gift felt like perfect timing. It had all the things she needed during a chemo session, and she was really touched by the personal card. During her chemo session she started reading the Try Praying book for the first time!"
We love how Jos and the team at Leeds Vineyard identified a really specific need in their community, and with creative minds and generous hearts were able to share some hope in the middle of it. If you have a story of creative compassion, we'd love to hear it! Email us at: [email protected]