Thy Kingdom Come is a global prayer movement initiated by Justin Welby that invites Christians around the world to pray for more people to come to know Jesus over Pentecost.
This year, a multitude of Vineyard churches were involved in Bow Down events across the UK and Ireland as part of Thy Kingdom Come. Bow Down is an opportunity to kneel together in the middle of our communities to pray for God's Kingdom to come in our cities and our country. The event starts at sunset, where people are invited to pray for 15 minutes. The time together is closed by standing and holding up phone torches as an act of unity and to symbolise that Jesus is the Light of the World, as John and Debby Wright explain in this short film.
Foyle Vineyard united with seven different church communities to pray in the heart of Derry~Londonderry, a city that, for religious and political reasons, has been historically divided. They also hosted their first event in their own church building, a united worship evening where they prayed over some of the leaders in their city and prayed for increased vision, empowerment for mission, a release of love and joy and a legacy of relationships in their city.
In the Midlands, the Nottingham Post (newspaper) ran an article on Bow Down entitled: 'This is why hundreds of people were praying in Nottingham's Old Market Square last night.' 

This article included mobile phone footage and an interview with Dave Miller, Worship Pastor at Trent Vineyard, Nottingham, in which he said:
"One of the really lovely things is the sense of unity. It's greater than anything.  We just want to see Nottingham thrive, so it was great to be right in the heart of the city.  [During Bow Down] there was a quiet across the square as we knelt down and some people just wandered over to join in."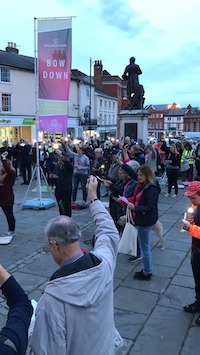 Stour Valley Vineyard in Suffolk partnered with 14 local churches, gathering 120 people to pray, in the market town of Sudbury. They felt a significant shift in the atmosphere when different churches came together and saw significant momentum behind unity and prayer. Somebody's neighbour attended who rarely goes to church. Three months prior she'd had a knee operation that meant if she knelt, she'd be left in a lot of pain and could cause further knee problems. However, the lady felt that she really needed to get down on her knees and pray on the hard, concrete pavement slabs. After the 15 minutes of praying, she got up and expected the worst, but to her surprise, she felt no pain at all. She said getting up she felt this strange sensation all around her. Her neighbour simply told her, "That's the Holy Spirit!"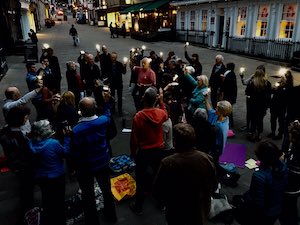 On the south coast of England, Winchester Vineyard hosted a Bow Down event with a number of local churches, and found it a great context for ongoing churches relationship, as they united behind Thy Kingdom Come to pray for God's Kingdom to come in Winchester and the surrounding area.
Vineyard Church Cardiff want to see the areas of brokenness within their city restored, with hearts and lives turned to Jesus – and are aware that this must start on their knees in prayer, asking God for his healing and forgiveness. Around 200-250 people gathered for a Bow Down event from at least 10 churches across the city, which led to conversations with passers-by, others stopped to take photos and ask questions, and it became an opportunity to talk about prayer, their faith and God's heart for the people of Cardiff and South Wales.
There were also stories of many more Vineyard churches from Northampton, Croydon, Kettering, London and beyond holding Bow Down events and joining with churches from all streams, networks and denominations to pray for their towns and cities during Pentecost.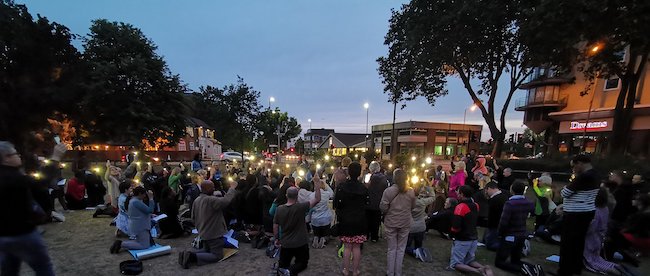 Pentecost is about getting out of the church building and bringing hope to our communities. Bow Down 2019 was a great context for churches to unite in prayer and to let our cities know we are praying for them.
Join the global wave of prayer calling all Christians to pray between Ascension and Pentecost for more people to come to know Jesus Christ. May 21st – May 31st 2020