On Saturday 19th January 2019, a car bomb exploded in Derry~Londonderry at the heart of the city, outside the courthouse and next to where Foyle Vineyard church meets.
With the area being cordoned off the following day and without a venue to meet in as a church, this church responded in the only way they knew how; by heading on to the streets to show the love of God to their community and to pray for their city.
A message was circulated to their church, which spurred them into action:
We were grieved to hear about the bomb last night on Bishop Street near where we meet for Church. We love this city and are committed, along with others, to see it flourish and for Jesus to have his Beautiful Way. As we go into our week of prayer and fasting this week it is a timely call to continue to pray and stand in the gap to see peace and hope restored in full. As we can't get into our building this morning we will be gathering as a church community on the Peace Bridge.
Derry Peace Bridge spans the River Foyle and bridges a 400-year-old physical and political gap between two sides of a once, bitterly divided community. The bridge stands as a resolute commitment to peace and it was here that Foyle Vineyard, led by their Senior Pastors, Ben and Sian-Lee Ewan, headed.
Steph, from Foyle Vineyard, wrote on Instagram afterwards: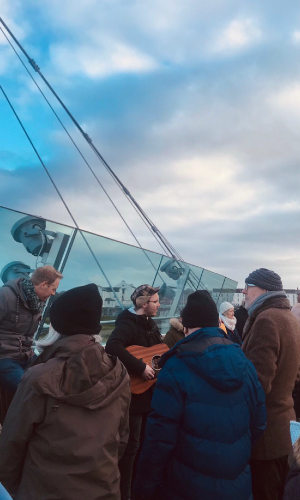 On a cold morning in the middle of winter, on one of the most exposed spots in our city, God was moving and stirring over the water, as he has from the beginning, creating something from nothing and penetrating deep darkness with incandescent light. Minutes later I stood with a precious lady in Guildhall Square as she dedicated her life to the hope of Christ. Somewhere nearby a friend got to pray and see healing spring forth. Another was inspired to pen declarative lyrics of hope and peace. And a bunch of our guys got to bless and feed our emergency service personnel. What the enemy meant for harm, God used for immeasurable good. What seemed to be a victory in the camp of darkness and despair turned out to be a launching pad for Hope, healing and salvation.
Senior Pastor, Ben, said to us:
Part of our vision for this church is to see the power and presence of Jesus impact the City of Derry and beyond. This disruption of peace propelled us out into the city, where we saw God show up in a unified city, through practical provision, prayer and introducing one person to Jesus for the first time.
In Derry~Londonderry, this weekend, love looked like:
:: Handing out doughnuts to the emergency services
:: Praying for peace in their city
:: Praying for people they encountered and seeing physical healing for those they encountered.
:: Building community and declaring hope over a city.
:: Leading someone into a relationship with Jesus
The local Police later posted on Facebook, sharing the impact of the community coming together: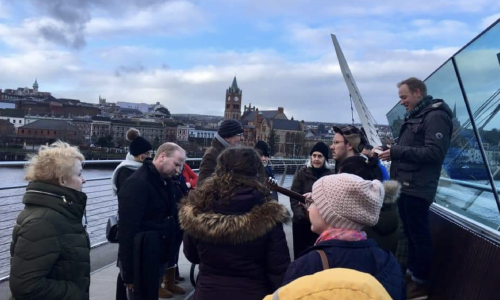 In the hard times, we see the best of our City. We had hotels bringing us tea and coffee through the night, we saw people being forced out of their home thanking us for keeping them safe. We've seen our Politicians come out as one to condemn this. There was a Church this morning that met at the Peace Bridge to bless our City because their meeting place was in the blast area.
Ben summed up their peaceful heart for Derry~Londonderry:
We are a family on mission together. We are in this together and our purpose is to participate in what God is doing in the earth right now.
For more information on Foyle Vineyard please visit their website.