VCUKI's third bi-annual Theology Symposium was held on 2 and 3 June 2017, running from Friday evening through to late Saturday afternoon. The venue for the event was Burleigh Court, a hotel and conference centre on the Loughborough University campus. For the first time this year, Vineyard Churches also offered bursaries to students and those on low incomes to encourage wider participation.
With keynote talks from Krish Kandiah (speaker, writer and CEO of the charity Home For Good), Kate Coleman (lecturer, coach and founding director of Next Leadership) and Andrew Wallis (founder and CEO of the anti-slavery charity Unseen), the theme for this year's gathering was justice. A conference app, available from early May, gave delegates advance information about the event and provided early access to the seminar papers.
A quick word about the title. "Theology symposium" probably sounds daunting to many people, but it shouldn't. Theology is what all of us are engaged in every time we think or talk about God or church or kingdom ministry; and symposium is simply an apt description of a small to medium-sized gathering where people have come together to talk about a particular subject. Those who attended the event fearing that they might be 'out of their depth' or overwhelmed with academic jargon were pleasantly surprised at how accessible they found the subject matter and the discussions around it.
On the first evening, after a time of worship (which definitely caught the attention of other guests staying at the hotel) Dr Krish Kandiah challenged delegates to take a fresh look at our standard gospel presentation, asking whether or not it includes the idea of working for justice as a fundamental element of what it means to follow Christ. His talk was engaging, interactive, challenging and ended with an appeal for all of us to think seriously about how the practice of justice fits within our own lives and churches. The evening concluded with a three-course conference dinner, followed by time to relax and chat, accompanied by live entertainment.
Saturday opened with a talk by the Reverend Dr Kate Coleman, someone who began her discipleship journey in a church that didn't believe in women's leadership, but who went on to become the first black, female Baptist minister in the UK and, eventually, President of the Baptist Union. Kate spoke powerfully about the kind of leadership needed to take churches forward in areas of justice ministry, focusing especially on issues of diversity, listening to voices from the margins and empowering others.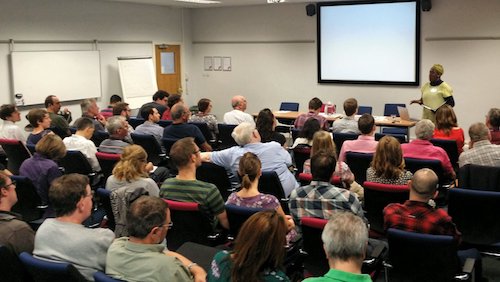 Then came the first of two seminar sessions. An important function of the symposium is to allow existing and emerging theologians within the movement to share ideas and questions in the form of seminar papers. This year, for the first time, the papers were distributed in advance of the event, thus allowing more time for questions and discussion on the day. The morning seminars explored a range of topics including 'pregnant justice', the imperatives of justice in the ministries of Hosea, Amos and Jonah, the sacrament of justice, and our calling to 'make the road safe'.
Our third keynote speaker was Andrew Wallis, who gave a personal account of his journey from studying liberation theology at university, through leading a Vineyard church, to founding and running the charity Unseen, which works to rescue people from modern day slavery. Andrew was both passionate and provocative in what he said and he underlined the connection between compassion and justice ministries by reminding us of Archbishop Desmond Tutu's famous illustration: "Christians shouldn't just be pulling people out of the river. We should be going upstream to find out who's pushing them in."
Lunch was followed by a second set of seminars, which looked at issues of practical justice, such as making our churches dementia-friendly and responding appropriately to humanitarian crises. In a parallel session, delegates were encouraged to engage in some 'instant theology' on the topic of justice, facilitated by Jason Clark.
The symposium concluded with a short plenary session, at which all three speakers gave their final thoughts on some of the key questions and issues that had been raised over the course of the event. Any delegates who didn't have to head home straight away were then free to stay on for a little longer and make use of the spa facilities at the venue.
The overall feedback from the event was extremely positive with most attendees agreeing this was the best symposium yet. The chance to explore in depth such a vital theme as justice over a 24-hour period was felt to be very valuable and, over the coming months, we will look at ways of disseminating some of the symposium outcomes, so that those who weren't able to attend can benefit also.