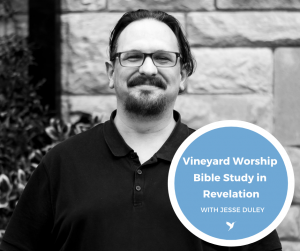 Jesse Duley (Vineyard Worship UK & Ireland Training Co-Ordinator)
As worship leaders in the Vineyard having gone through the shock of 2020, let's take this opportunity to rediscover the drama of the gospel, and re-establish ourselves and our ministry in the Revelation of Jesus Christ.
This short course is designed to both decrease and increase the mystery of the Revelation. It is quite possible to demystify the text, and approach it with understanding. At the same time, we will discover that the Revelation is not there as a code to be unlocked, but in order to awaken our sense of wonder and awe at who God is, what he has done, and what he will still do.
Revelation, the last book of the Bible, has for centuries been one of the greatest sources of both fascination and confusion. Christians have taken many approaches to it, from dismissing it as the ravings of a lunatic, to wielding it as a weapon in whatever culture wars happen to be raging. G.K. Chesterton once wrote that "though St John saw many strange monsters in his vision, he saw no creature so wild as one of his own commentators." 8 Week Course | Tuesday 2nd Feb – 23rd Mar | 7:30-9:30pm. Register for free using the link below.