*Coronavirus pandemic in the UK: We would like to reassure you that your safety is of paramount importance to us. At present the Song Summit will be going ahead as planned. We will be following up-to-date government advice and keeping in line with all relevant regulations around holding an event of this size (under 50 people). For your safety and that of the other attendees, you will be required to provide proof of a negative Covid-19 lateral flow test to attend, further details will be released to all ticket-holders closer to the event date.*
The Song Summit is a 24-hr songwriting intensive for Vineyard Songwriters.
This event is designed to explore the craft of songwriting for the church, and is suitable for everyone from the aspiring to the seasoned songwriter.
What happens at the Song Summit?
This will be an active songwriting intensive and you will need to bring a song in 'draft form' with you to the event (see What is a Song Draft? below). Please also bring with you:
Your keyboard or acoustic guitar
A Bible and journal
Hard copies of your song draft (lyric/chord chart) to share with your group
Every songwriter will receive song evaluation from a Vineyard Songwriting Coach, and input from their small group.
What is a Song Draft?
A song draft is a recent song that you are open to getting feedback on; it needs to be at least a Verse & Chorus or A & B section, (unless you are writing an AAA song, in which case please bring at least two A sections!)
Please see additional information below.
GUEST SPEAKERS: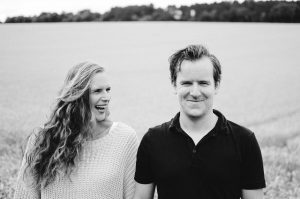 Rich & Lydia Dicas
Rich & Lydia Dicas are UK-based worship leaders and songwriters whose hearts burn to see God's love transform people wherever they go. They are passionate about seeing the most broken and abused come into freedom and fullness of life. Rich & Lydia first met in Holland back in 2009 – they have been married for 9 years and are parents to River, David-Joshua and Jesse.
Location/Venue
Jurys Inn Hinckley Island, Leicestershire, England
Cost
Cost from: £130 - £145
Logistics
The Song Summit begins with lunch on Thursday 17th and ends with lunch on Friday 18th. Full details of the programme will be communicated before the event.

All meals are included. A licensed bar will be open on Thursday evening.