Simon Ponsonby memorably spoke on holiness at the 2014 Vineyard National Leaders' Conference, that talk then formed the basis for his new book.
In this talk (available to watch again at the foot of this page) Simon spoke on Joshua 3 verse 5: "Consecrate yourselves, for tomorrow the LORD will do amazing things among you."
Following that National Leaders' Conference, Simon then went on to write a book ('Different – living the Holy Life') which explores this topic in greater detail.
He said of his new book:
"This book, like its author, owes much to the Vineyard family.  
John Wright & John Mumford, without reference to each-other, both encouraged me to preach on holiness at NLC in 2014 and the feedback I received from various Vineyards made me feel my old message had fresh legs. That talk formed the basis around which this book developed.
My understanding of religion-free holiness has been consistently modelled to me by the Vineyard Family, especially the wisdom and walk of John Wimber.  
Holiness as Kindness was the mark of Vineyard Daventry whose Food Bank ministry left me speechless, and whose members wore waistcoats to welcome me, leaving me tearful. 
The chapter on Drift was inspired in part by an unforgettable prophetic message I heard on this by David Ruis who had witnessed too much of it. 
Steve and Lyn Burnhope risked me teaching on Pornography at their Aylesbury church. 
John Clarke (Student Director, VCUKI) and Christy Wimber read earlier drafts, offering encouragement and input.
I am so grateful to the Vineyard for bringing me more of God, and to God for letting me hang out with the Vineyard."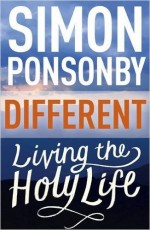 'Different – living the Holy Life' is a punchy new book, in which Simon sets out the challenge for all of us to look hard at our own lives and think about the life God is calling us to – to deal with the things that prevent us from following in spirit and in truth, and to face up to our failure to be true to the task God has set us. Tackling tough issues from porn to family life and digging deep into Bible stories from classics like Daniel and the Lion's Den to hard passages like those dealing with the Israelites' worship of Baal and Asherah, Simon takes us with him on a wide-ranging journey into the heart of what God wants for his people.
Get this book from Vineyard Records UK.
Simon Ponsonby has been called a 'preacher's preacher' on the one hand, and a 'people's theologian' on the other. He speaks and writes from a passion to see God glorified and people's lives changed – and with an increasing concern that too often, even those who are deeply committed to Christianity and church still don't seem to be much different from anyone else.
Below you can watch or listen again to the inspiration for this book, Simon's 'Holiness' talk from our 2014 National Leaders' Conference.
Audio: Holiness | Simon Ponsonby