The Song Summit is a 24-hr songwriting intensive for Vineyard Songwriters.
This event is designed to explore the craft of songwriting for the church, and is suitable for everyone from the aspiring to the seasoned songwriter.
What happens at the Song Summit?
This will be an active songwriting intensive, you will need to bring a song in 'draft form' (see Song Draft below) with you to the event. Please also bring with you:
Your Keyboard or Acoustic Guitar
A Bible and journal
Hard copies of your Song draft (Lyric/chord chart) to share with your group
Every Songwriter will receive song evaluation from a Vineyard Songwriting Coach, and input from their small group.
What is a Song Draft?
A song draft is a recent song that you are open to getting feedback on; it needs to be at least a Verse & Chorus or A & B section. (Unless you are writing a AAA song, in which case please bring at least two A sections!)
Guest speaker & coach: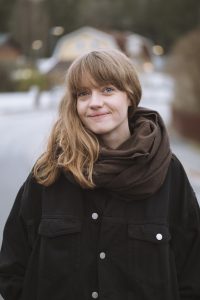 My Helmner
My Helmner is a songwriter/artist/student but who most of all defines herself as a person. In charge of coordinating and leading the worship within Vineyard Nordic Youth, also involved in writing and leading worship in her local church Stockholm Vineyard (Sweden) and within the Vineyard Nordic Worship community, My is passionate about justice, beauty and spirituality and to see lives transformed by Jesus.
My is a songwriter and pop-artist signed to Sony Music UK, lives and make music together with OAK Community in Stockholm and soon a ready social worker with the dream of going out working closely with people out on the margins. She loves when people make her food, feed her great cappuccinos or drive her places. 

BOOKINGS WILL CLOSE ON WEDNESDAY 26TH FEBRUARY AT MIDNIGHT!
Location/Venue
Yarnfield Park, Staffordshire, UK
Logistics
The Song Summit begins with lunch on Thursday 12th and ends with lunch on Friday 13th March 2020. Full details of the programme will be communicated before the event.