'It Takes a Village' is a one-day conference for anyone who is passionate about seeing the children in our churches and communities ignited with the love of God and released to bring his power like never before.
The day will be split in two separate parts, with different content depending on who you are.
Daytime
During the morning and afternoon we have sessions and seminars geared specifically for our community of Kids Leaders. If you want to attend these sessions, you will need to register on HopIn using the link below.
Evening
Our evening celebration is a movement-wide opportunity for our pastors, kids leaders, parents, grandparents and anyone who longs to leave a lasting legacy. This session will be publicly available on YouTube and no sign up is required.
We want you to be blessed and empowered as leaders, so that this emerging generation can stand on your shoulders and reach for more of the Kingdom than we have yet seen or imagined.
Speakers:
Rick and Becky Olmstead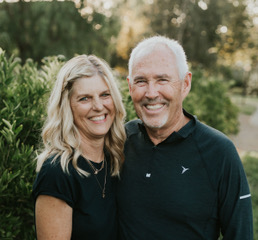 Rick and Becky have 30+ years of experience leading and planting Vineyard churches, a deep passion for children and youth, and have traveled the world encouraging pastors and advocating for this emerging generation. They love a good adventure, walking 10,000 steps a day, and hiking the trails in the hills of the central coast of California. They have two married sons, and two grandchildren.
Afternoon Seminar Details (to attend these, register on Hopin using the link below)
2 – 3PM
Leading in Difficult Times – Kev Nash
How do we lead in difficult times? The past couple of years have been hard for us all, in this seminar Kev will explore how he has led through many personal difficulties. How he has leaned into Jesus in those hard times and how the LORD has sustained him to lead. Pastoring children now is more important than ever. In this seminar we will explore how we can step into our calling as leaders and pastors, even if we feel like everything is falling apart around us.
The Adventures of Young Leadership – Sarah Chirnside
Drawing from some of her own story, Sarah will share about the adventures and experiences of young leadership and how to cultivate and raise up the young leaders that are already in our midst. This seminar aims to stir your heart for young leaders, and give you space to plan and process how to do some of that within your own setting.
Sarah is the Kids Pastor from Catalyst Vineyard Church, Aberdeen. At 14 years old she felt God tug her heart and call her into kids' ministry, and she has been enjoying the adventure ever since!! Sarah loves seeking adventure in the great outdoors too and is often found building fires, hiking mountains or swimming in the North Sea! She is getting married this summer to a lovely Kiwi who, you guessed it, also loves adventure!
Digital Content as we Move Forward – Josh Dillingham 
Over the last year I'm sure the majority of us have had to engage with the necessary evil that is online content and video making. Although we know the challenges of it all too well, I firmly believe that online content, when done well, has enormous potential to engage, disciple and reach people. In this session I will seek to evaluate the lessons learnt over the last year of engaging within the online space, see in what ways it can be an important tool in our arsenal going forward, and most important share some of the lesson's I've learnt that will hopefully help you create more engaging, more helpful and more sustainable online content.
Josh is the 5-11s Pastor at Trent Vineyard Nottingham and is passionate about seeing kids ministries become the most exciting and fruitful areas of church life. When not in his kids shirt, Josh enjoys playing guitar, exploring the great outdoors, and pubs trips with his wife.
3:30 – 4:30pm
Little Minds Matter: ministering to kids during a mental health crisis – Keely Mosley
What is the church's role in looking after children's mental health and wellbeing, particularly in the current crisis?  How do we minister to children experiencing anxiety, grief, anger, dysregulation or distress?  This seminar looks at how we can make our churches safe and secure bases for children where their big feelings can be validated, normalised and expressed and how to connect this to Biblical teaching.
Keely is a full time mummy and a part time play and filial therapist and clinical supervisor and runs Shepherding Lambs Counselling and Training Service.  She has worked with children and families for 25 years and intends to do so for at least 25 more.  Before training as a play therapist Keely did a Masters of Theology in Pastoral Care and Counselling for Children and Young People and is passionate about 'binding up the broken-hearted' and 'setting the captives free.'
A Balanced Diet of Kids' Worship? – Rob Pickersgill
As we equip our kids to live in the reality of the Kingdom of God, how can we lead ministry times where they can have fun, be silly, and also connect with His presence? Join us as we discuss some ideas that you could try with your little ones.
Rob has been involved with kids worship for several years, starting with 0-5s worship and gradually getting involved with worship for older kids. He's now part of Herald Vineyard, a new church plant in Liverpool
Raising Prophetic Kids – Marna Esterhuysen
There is no greater time than now to pastor children in a prophetic environment and to guide our children to hear God's voice for themselves and for others, living out of the power of the Holy Spirit and seeing with the eyes of Jesus.
There is global expectation of a revival, not as before, but rather an accumulation of all past revivals and awakenings. It's time to "Let the children come to Me" – position our children in the church in a new way, aligning the body of Christ for God's Kingdom to come and the pouring out of His Spirit on all flesh as in Joel 2:28.
This seminar will look at the foundations for activating the prophetic in children such as facilitating an awareness of the Holy Spirit and guiding children to hear and discern God's voice. It will provide resources and practical examples of how to activate children in the prophetic not just for them to grow in their own walk with God but also to bless the wider church family and the world around them. It will further explore how to prophetically align with His ancient, appointed times positioning children to step into the fullness God has for His church at this crucial time.
Logistics
Morning:
SESSION ONE: 10:00am - 11:30am
BREAK: 11:30am-12pm
SESSION 2: 12pm - 1pm

Seminars
SLOT ONE: 2-3pm
SLOT TWO: 3:30-4:30pm

Evening
7:30 - 9pm